Park Lane Promenade Updates Plans
3/21/09 - NEW PARK LANE PROMENADE PLANS - Thanks to super secret agent X for finding these for me. The Park Lane Promenade plans, which is being built at the former Park Lane Mall site on Plumb and South Virginia, have changed significantly since we last glanced at them. Construction starts this fall. If you haven't been by the Park Lane site in a while, Gotchalks, the last remaining attached building of Park Lane Mall, is now gone, a little pile of rubble. So let's look at the revised plans. You'll need to click the image below to see the high-rez pic in detail.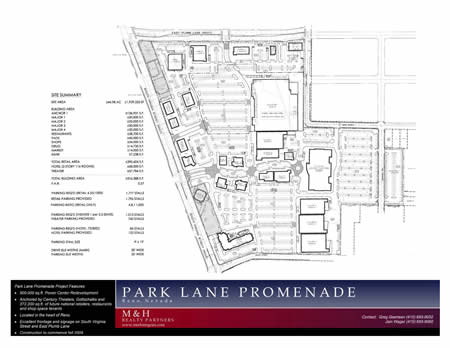 The buildings have been rearranged a bit for frontage on Virginia and Plumb Lane more, with the majority of parking in the center of the project; also the main 'drive lane' through the project to the movie theater has widened a bit, and more stores now front the drive lanes through the project. In my opinion, this takes the projects a few steps further away from strip-mall-status. A hotel has been added to the mix, although calling a 3-story drive up inn a hotel is a stretch, I think they called those motels back in the day.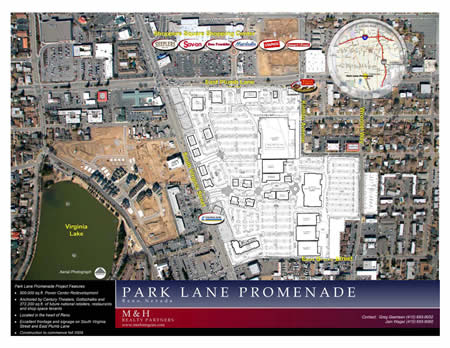 There is still activity going on as well. It looks we may get the added bonus of removing some blight in the area.
Notice in the upper rendering there is a 'whited out' space in the lower right of the property with a dashed line around it. Agent X has conveniently highlighted that parcel in the image below.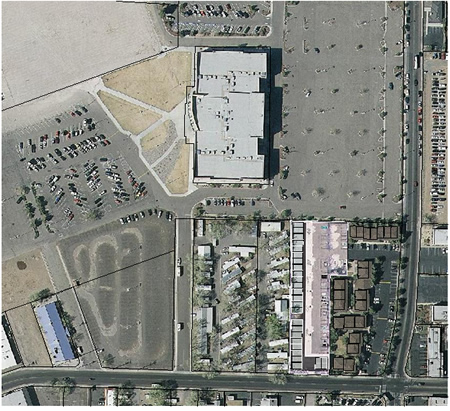 The parcel highlighted above in white is apparently an old apartment structure that has been multi-parceled and converted to condos. On the Park Lane Promenade development plan, this parcel is "whited out" but not included in the plan – which may suggest that the developers are attempting to acquire the property.
The two parcels to the west of the building and just south of the movie theater are INCLUDED as part of the redevelopment and part of the three major tenant stores sits on what is now an old mobile home park. County files do not yet show a change of ownership, but the existing owner has done some recent ownership changes – shifting to LLC ownership – that suggests that maybe they are preparing to do something with the property. Developers undoubtedly now either own the property or have a solid option to purchase.