The first of several special meetings for affordable housing was conducted today, and in case you don't want to sit through the multi-hour meeting, here is what you need to know. Let's start with the state of Reno, the second presentation by Kelly Mullen.
The State of Reno report
The Area Median Income (AMI) is currently $83,800 a year for a family of 4.
60% of AMI is $50,100
60% AMI is considered housing burdened if rent and utilities exceeds $1,252 a month.
The average monthly rent is $1,616 spanning all types of housing.
The Median Sales Price in Reno is $600,000 and $570,000 for Reno/Sparks combined.
The average Reno/Sparks Rent in Q1 2020 is $1,341, and in Q4 2021, was $1,616 (almost 21% increase in 2 year period). Thus, 7 out of 10 households are unable to afford a median priced home in our area. Less than 23% of households in Reno earn enough to qualify for a median-priced home but that number is actually lower, because some of this data was pulled from last year. It would be fewer than 23% of households because it was based on lower than current median home price ($541k). A household would need to earn $117,000 a year to qualify for median home price in Reno.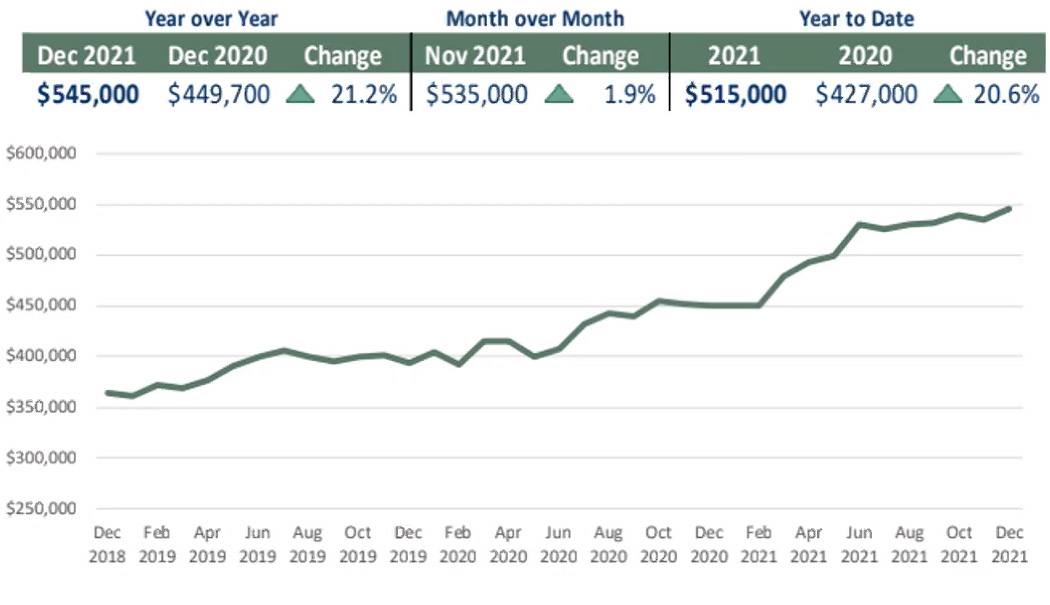 Here are some more growth numbers:
Expected Growth in next decade:
2021 Reno Population: 264,318
Dwelling Units: 118,612 Dwelling Units
By 2030, Reno population: 313,708
Dwelling Units: 132,927
PUD (approved lots remaining to be built)
Reno: 39,850
Regionally: 55,319
Subdivisions (approved lots remaining to be built)
Reno: 10,544
Regionally: 22,100
Existing dwellings in Reno:
Multi-family: 45,169
Single-Family: 71,901
Dwellings brought online the last two years:
Multi-family: 3,815
Single-Family: 3,222
Dwellings to start construction in 2022:
Multi-family: 2,200
Single-Family: Over 2,000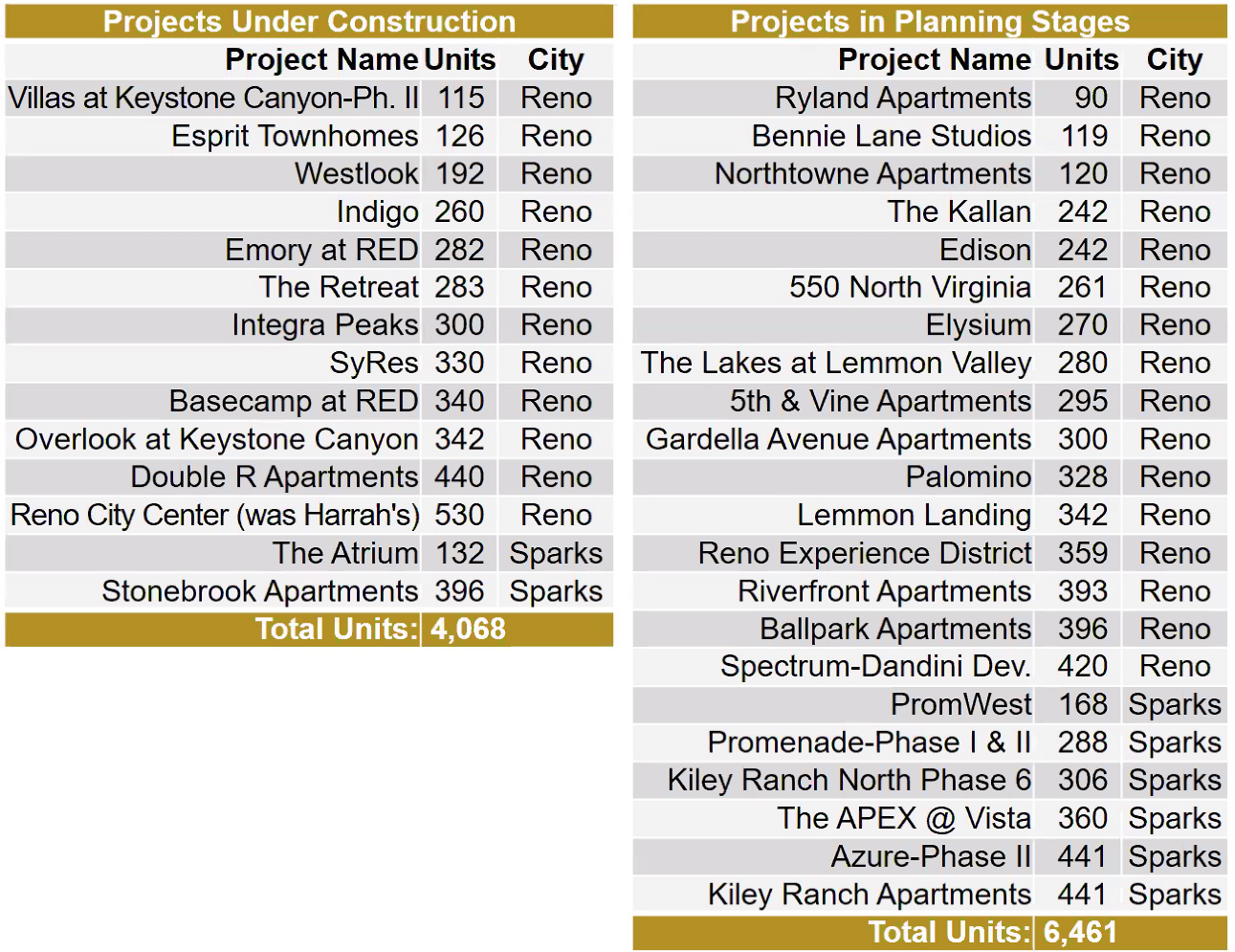 The Construction Challenges of Developers
Developers are often vilified, but when you look at the overall cost to construct, it's a huge barrier as to why affordable housing isn't being built without subsidies or assistance.
Here's a graph showing the rising costs of construction, hindering affordable development.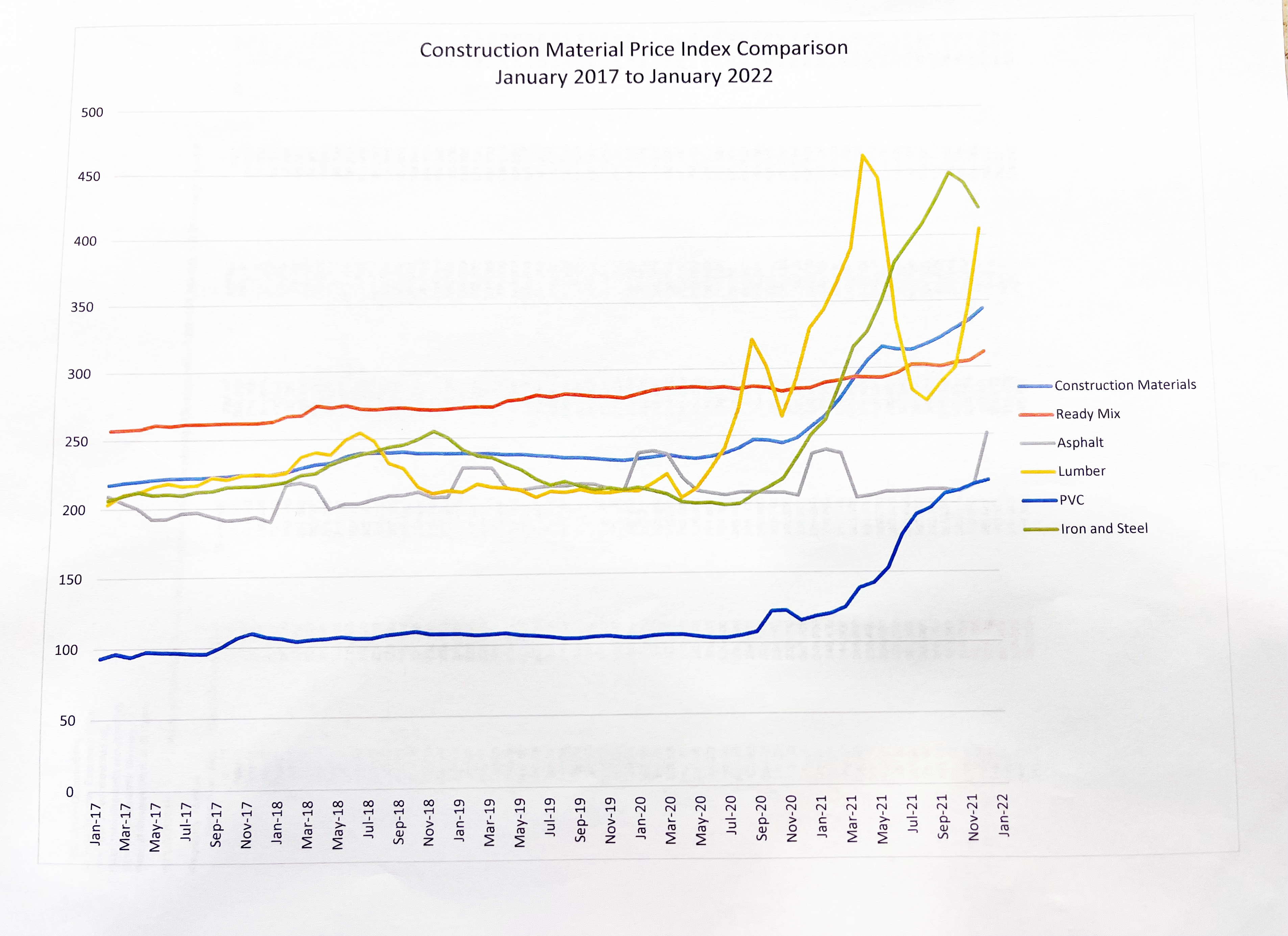 Labor shortages and supply chain issues have increased timeline schedules by 35%, said Chris Pingree, director of development services for the city of Reno.
Solutions at the State Level
State Treasurer Zach Conine gave a great presentation on the Nevada State Infrastructure Bank and Affordable Housing Trust.
It is a way to help finance a project, that is NOT free money or a handout to developers. It is a bonding method. This is money that would be available for bonding capacity. The State is essentially borrowing money from its general obligation debt which would be repaid with property taxes. They are able to do that much more cheaply than a private developer because the state has the highest credit rating in the state's history.
State of Nevada as a whole is facing deficit of 105,000 affordable housing units and 84,000 units short for extremely low-income individuals (those earning 30% or less of AMI) . To afford a one bedroom in Reno, one has to earn $51,000.
Nevada is dedicating 87% of its 2021 private activity bond allocation to affordable housing, creating more than $300 million in bonding authority that will support almost 3,000 new housing units by 2024
The State Infrastructure Bank is designed to provide low-interest financing to local govts, non profits and public private partnerships for development of infrastructure projects, authorized through assembly bill 399 in the 2017 legislature and then Senate bill 430 expanded the types of projects to include social infrastructure, which includes education, affordable housing, homelessness and food security.
Affordable housing rose to the top of the State's priority list when they took the Nevada Recovers Listening Tour, which consisted of over 120 listening sessions over 80 days.
The $75 million in general obligation bonds available to the Infrastructure Bank will support projects in three areas;
- Up to $20 million for the Affordable Housing Investment Front
- Up to $15 million for the Charter School Capital Needs Fund
- Up to $40 million to serve as a matching fund to leverage federal infrastructure funds
- Funding will be available to state agencies, local govts, non profits and tribal govts.
- The $20 million set aside for affordable housing will serve as a revolving loan fund to support the development, construction, maintenance, repair and acquisition of affordable housing.
The program requirements:
- All projects must attract a match from a pension fund investor or commingled fund of pension fund of investment, with a responsible contractor policy and track record of successful investment in affordable housing.
- Borrowers should ensure any developer that is being utilized can demonstrate long term commitment to hiring local residents and utilizing apprentices in registered programs.
- All projects must adhere to the statutes and regulations governing the Nevada State Infrastructure Bank, including the payment of prevailing wage
Through a partnership with ALF-CIO HIT and Building and Construction Trades of Northern Nevada, the State is working to develop a potential pipeline of affordable housing projects in Washoe County and throughout Northern Nevada first. Potential sites have been identified for new construction of affordable housing developments and acquisition and rehab of existing sites. Some of these projects will begin moving later this year.
Bonds should be able to start being issued in a few months.
Reno Housing Authority Presentation – Amy Jones
The Reno Housing Authority was created in 1943, and adopted by Washoe County and City of Sparks as a regional housing authority in 1975. It is a HUD-designated top performing agency, and only 39 of 4,000 orgs earned the designation. It is the largest affordable housing provider in Washoe County, and serves more than 9,000 residents in 4,000+ households. 2/3 of those residents are seniors and persons with disabilities.
They own and operate eight public housing sites, three sites for seniors and persons with disabilities, five sites for families, for 750 units total, and residents pay no more than 30% of thir income. Each site has resident councils, similar to NABs, and plan community events.
They also manage a Housing Choice Voucher program, and provide 3,000+ vouchers to individuals, Veterans, former foster youth and homeless or facing homelessness.
RHA market activities include owning 500+ apartments, duplexes, and single-family homes, all unsubsidized. They rent those units all below market rate. They also serve an additional 1,500 people through their own financial stewardship, and is used as a path to home ownership.
Their two short-term plans include Sundowner, 180-200 units, for sale for $18 million and the Bonanza Inn, which bidding should start soon.
Additionally, a 12-unit complex serving homeless veterans.
After the presentation, Jenny Brekhus raised concerns that Jacobs Entertainment and the RHA could conflict and wanted re-assurance that there are no backdoor deals or benefits because both properties happen to be in the Reno Neon Line. It stemmed from RHA pondering selling Sarrazin Arms to Jacobs Entertainment, but then backed out of the deal to keep the units at that project affordable. This angered the Mayor Hillary Schieve, who then explained exactly what happened, and scolded Brekhus for never being at the table for Jacobs Entertainment or understanding what was going on, and accused her of inventing a narrative in her own head. Devon Reese brought up concerns about the Bonanza Inn being in probate court, and the sheer cost of the Sundowner project, including rehab, but the RHA mentioned they received estimates that would come in at about $50 million for the project including purchase price.
The RHA needs $13 million from the city to possibly complete both deals for the project. There is a sense of urgency for the Sundowner project, since the developer told the RHA 'show me the money' essentially.
Mayor Schieve mentioned she would call another special housing meeting to address these two projects.
Additional Solutions
Village on Sage 2.0
The second part of the Village on Sage will be 96 additional units. The hard cost for the units would be $430,000 for 96 units. Would bring total of units at both Sage projects up to 312.
The cost of moving the units and setting them up is $6.5 million, and the project would take 6-8 months. Rents would be $400 a month.
They are requesting $3.5 million from the state and $2.5 million from the City of Reno to complete it.
The mayor and Duerr would like to keep the land under City of Reno ownership.
Highway 40 Motel – 1750 East 4th Street
32-unit motel, some motel style rooms, one some 1 bedroom units. Near the Village on Sage Street.
The estimated renovation and purchase cost would be $4 million, rents would be $675 to $1000 a month. The motel style rooms would be converted to kitchenettes. Nobody would be displaced and renovations would occur as they became available. 20 of the 32 are not currently rented out. They are requesting $2 million from the State and $2 million from the City of Reno. IT would be a partnership with Volunteers of America just like Village on Sage Street.
The Council made a motion to move forward with both projects, coming back before the ocuncil as the project progresses.
Identify Zoning Code That Can be Modified
Also on the table are zoning code modifications, including accessory dwelling units, inclusionary zoning and updated permitting processes and standards.
Rent Control a no-go
Because Nevada is a Dillon's Rule state and not a Home Rule State, the state legislature would have to include the ability for municipalities to enact rent control in NRS statutes before any city in Nevada could implement rent-gouging ordinances or rent control ordinances.